Novi Sad
Jump to navigation
Jump to search
Novi Sad (Serbian: Нови Сад) is a city in Serbia, the largest city of the province Vojvodina.
Hitching out
Take city bus no. 1 from the centre, towards the suburb Klisa (bus stop in front of Uspenska church, just next to Serbian National Theatre (Srpsko Narodno Pozorište)). Get off at the last station. The street is called Sentandrejski put. Head straight down the same road for another 15 minutes, until you reach a big intersection with the motorway. Keep walking in the same direction for another 20 minutes after the intersection, and hitchhike from there.
If a car doesn't stop while you are thumbing at the intersection, you can try hitchhiking from the petrol station near the supermarket Ronda. Use a sign "Subotica".
1st Option: It is best to take the old road to Belgrade instead of the motorway. The hitchhiking generally works better there and there's no risk of police making you problems. Take city bus no. 3 or 9 (bus stop across the street from "Bazaar" shopping mall in the city centre, on Mihailo Pupin Boulevard. Get off at the last stop and hitchhike right from there, about 30 meters from the bus stop. The place doesn't look like a good hitchhiking spot, but it works fine, maybe even better than the motorway.
2nd Option: If you want to go by the motorway, take city bus no. 5 (bus stop in front of the Uspenska church, just next to Serbian National Theatre (Srpsko Narodno Pozorište). Get off at the last station, then walk straight ahead. After about 200 meters you'll bump into the motorway. Head straight for Temerin and Becej, right for Belgrade (wait in front of the parking adjacent to the huge gray shopping mall - Roda Megamarket).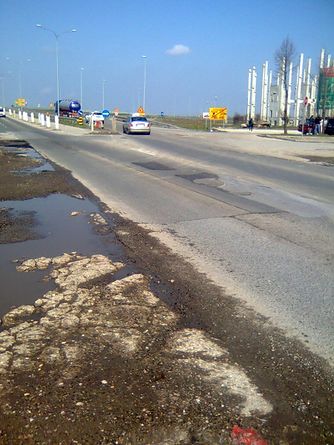 3rd Option: By motorway there is also good spot at EKO petrol station close Put šajkaškog odreda and Temerinska street. There is a big road leading to motorway to Belgrade.
It is not easy to get out of the town in the direction of Backa Palanka and the Ilok border post (towards Vinkovci, Vukovar, Osijek), because the city ends about 15 km from the centre, so walking is not advised.
Take bus no. 54 to the nearby town of Futog (bus stop across the street from the Futoska pijaca green market, on the crossroads of Futoska Street and Bulevar Oslobodjenja; the ride takes approx. 15 minutes). Near the town centre there's a gas station, a good hitchhiking spot.
The other option is to take bus no. 7 (same bus station across the street from Futoska pijaca market), and get off just before it turns right (you can't know when it will turn right, so just take off after the turn, and then walk back to the main road). There's a city bus depot there, so just hitchhike in front of it.
Another good option to get to Croatia is to start South from Novi Sad and then to go West. Perfect option to catch the highway to Zagreb :
To start off, catch bus 9A (there's a bus stop right after the bridge going to the Fortress, but probably also another one within the city). Get off at the final stop, on road 21. Then walk for 5 minutes and you will find a perfect spot with a large area for cars to stop. You will see it anyway, because the bus passes it before turning around for the official bus stop (you can try to ask the driver to let you get off while he is turning around as it will save you the 5-minute walk). Then your best shot is probably to find someone to take you to Ruma. There, you can hitch hike again at the highway toll and try to find someone to take you to Croatia. It is not an extremely busy road, but cars are going very slow since they must stop for the toll, which makes it a good spot.
From the center, take city bus no. 5 (bus stop in front of the Uspenska church, just next to Serbian National Theatre (Srpsko Narodno Pozorište)) and get off at the 4th station. From there keep walking in the same direction the bus went. Turn right at the next big cross-roads (Partizanska). There you will see a petrol station (EKO). You can try from there, but there is still traffic which does not go to Zrenjanin at this spot, lowering your chances to get a lift. A better option is to go with busses no. 22b, 23b or 23a (check on: http://www.gspns.co.rs/mreza) which drive directly across the bridge above the motorway A1 and to the street to Zrenjanin - so a lot further than to Partizanska. You save a lot of time walking and there is no other traffic than the one towards Zrenjanin. Direction of the bus is Budisava and it starts at the train station. You can get of at a stop called "PUT NS - ZR - AUTOSALON KIA" (which means street Novi Sad-Zrenjanin/Autosalon KIA). There's a petrol station close-by. If you get to Kac, you are too far, but can easily walk back to the road to Zrenjanin (called number 12).
However if you keep walking, on the other side of the bridge there is another petrol station (Avia). The distance is less than a kilometre and worth the walk since this is a much better spot (good traffic, safe).
Also be aware that the area near the EKO petrol station is known by locals as a prostitute pick up spot in the evening / night.
Important if you want to travel to Romania/Timisoara: In Zrenjanin you have two options - heading up North to Sprska crnja or going straight to Jasa Tomic. Sprska crnja is definitely the more active border crossing even if it looks like a bit of a detour. Another option nearby would be Kikinda a few km north of Srpska crnja. In Jasa Tomic there were only 5 cars the whole morning. If you end up there, cross the border and walk to the Romanian village Foen which is about 4 km away. There you should get rides in to three directions that all eventually end up on the road to Timisoara (straight takes a bit longer to stop a car, but is still the quickest option). Alternatively you can turn south in Setchan before Jasa Tomic to Vershats, which is a way bigger border crossing point. Also avoid stopping in Lazarevo. War criminal Ratko Mladic was hiding here for years and people seem to be a bit suspicious about foreigners, more than in a lot of other villages in the Vojvodina.
There is a map on http://www.serbiatravelers.org/en/index.php/hitchhiking/156-novi-sad
Sleeping
Stealth Camping
You might try your luck setting up your tent along the shore of the Danube Southeast of the city center, adjacent to the University. Not many people go to the parts that have woods. Dougie camped in a darker part of the actual park, not by the river, for 3 nights, breaking down his tent each morning. No one bothered him, though he tried to get out decently early. It's doable, but check the shore, where you'll have more privacy.
Public Transport
Controllers in buses are strict and you can never notice them. They are not wearing uniforms and you can't skip paying the fee.