Shypit
Jump to navigation
Jump to search
Shypit is one of the locations for Hitchgathering 2017.
Western Ukraine, Zakarpats'ka oblast, near the village Shypit (or Shipot, Шипот in Ukrainian), see map and event on FB.
Location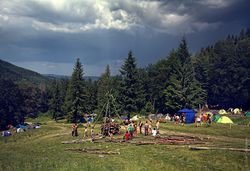 How to get to there
"For now I just add link with exact location of our future camping: Shipit
By looking at map it seems like shortest way to hitchhike there is to cross Slovakian-Ukrainian border near Ужгород – Użhorod. Though my hitchhiking experiences with Slovakia tells me it might be to hard to cross whole Slovakia and I would recommend to go through Poland cross border in Medyka and continue till Lviv and than head south. Last 50km might be quite hard as well, since you will enter on less populated area without main roads and big cities but only villages around.
Anyway again some friends of mine are hitchhiking both of the roads right now and once they come back from festival I will ask them how did it went."
Time
25th July till ?? August
"Exact time when we start isn't known yet but during main HG in Traumschule I will rise the topic of creating some seed camp around 25th of August. If some of you don't want to stay till end of August in Traumschule please let me know so we could organise a group for seed camp in Ukraine."
What to bring
"We are staying on the camping in the wild close to nature so we don't have much there but we won't need much. :) Once we get there we will have to organise some big pots to cook for all of us. If anyone have possibility to get some bigger tarp in case we have to hide somewhere during rain i will be great. I am not sure how people of this hippie festival manage the toilet but we might also need to dig out some toilets somewhere close our camp what for we need some tools. I guess this one we can easily get from farmers in villages near by." We might also try to organise access to the car during gathering so we could easier deliver supplies. If not we can also try ask for help in villages around but if someone will come here with car please let me know".
Infrastructure
Food, Water
"Water from the river is reported to be drinkable. But for those of us with sensitive stomach we can just boil the water. Anyway we are near the river in natural park high in mountains and close to the source of river and far away from any big town causing pollution. I'm pretty sure water will be fine (anyway in a week i should get update of information how is the water) "
"As dumpster diving won't be possible we will have to get food from some local shops. There is few villages in range of less than 10km. The nearest town: Mukaczewo is like 80km. At the moment I'm waiting for information about nearest shops and their exact location. Some hitchhikers are already on the road to festival in Shipit so more information will appear soon"
Facilities
"A big frame to put a tarp over with benches around a fire pit. I know that soon few friends of mine will go on this hippie festival which take place there and check out what other facilities will be left there after their event."
Dumpster diving
"As far as known Ukraine isn't a country where food is wasted on scale like in wester Europe. Dumpster diving will be most probably impossible. Although prices of food in Ukraine should be low enough that we won't spend much for some communal shopping."
What to do
"Place is far away from any big cities. The nearest Mukachevo with a nice castle to visit. Camping is located on huge glade wih a lot of space for tents surrounded by forrest and mountains from every side. We have river to bath and chill and a lot of trekking roads to explore around."
Important
If You need to contact me before or during this post-HG just send me private message on my fb: FB Adam. During the gathering I might not be available on FB so easiest way would be to send me txt message on my Polish number: +48 791 649 514. To limit my expenses on roaming i might get Ukrainian number once i cross the border than I will update this information here.
Pics
Some pictures taken during the hippie festival on the site.