Maastricht
Maastricht

<map lat='50.84930707388861' lng='5.700874328613281' zoom='12' view='3'/>
Information
Country:

Netherlands
Province:

Limburg
Population:
117,548
Major roads:
A2, A79
More info:
Hitchbase
Meet fellow hitchhikers on Trustroots
Maastricht is the most southern city of the Netherlands, located in the province of Limburg.
Hitchhiking out
As to 2017, getting out of Maastricht seems to be the hardest part of any journey. Roaming Pencil has managed to get out every time, but it usually took at least an hour of waiting (in any direction).
See below, under East towards Gulpen, Aachen (N278) for an alternate route. The construction along here in 2016 is crazy.
There was a liftershalte, a special spot for hitchhiking, at the beginning of the A2 near the soccer stadium De Geusselt (Viaductweg x N2/A2). With the upgrade of the N2 to A2 this liftershalte was removed.
Hitchhiking this direction is not always very easy. There is no obvious spot. Here are a few suggestions.
1. Traffic lights at west end of the Terblijterweg, where it connects with the N2/A2 motorway, close to the Geusselt football stadium. You really have to go to the traffic lights, which requires 150 meter of walking illegally along the Terblijterweg which is closed for pedestrians. Once at the traffic lights it should not take more than a few minutes to get a ride, pref. use a sign A2 or A79 / Heerlen. Personal experience of Fverhart: a good spot, police would send you away but it is unlikely that you need to wait long if you know what you're doing! Personal experience of rainboat: We waited here for nearly an hour, carrying a sign saying A2.
2. Crossroad Meerssenerweg / Viaductweg where you can ask rides at the traffic lights. Personal experience of Fverhart: works but not all traffic goes the A2. Sign A2 or A79 / Heerlen can help. Roaming Pencil always waits here for at least an hour, whether she's hitchhiking north or west, but eventually it works. Not sure whether this spot is possible now with the roadworks.
3. Just before A2-access lane Maastricht-Randwyck at the road Oeslingerbaan, on the bridge over the A2. There is a hard shoulder on the bridge on which a driver can easily stop. A sign Heerlen is recommended here if you are going there or into Germany, passing by or going to Aachen. Bus 1 and 6 (direction De Heeg) stop nearby at busstop Oeslingerbaan/Langendaal. http://goo.gl/maps/430rZ. Personal experience of Fverhart: An average wait of 20 minutes, a sign A2 or A79 / Heerlen helps. Police may send you away here. Easiest way to get on the bridge is from BP petrol station walk behind the safety rail along Oeslingerbaan.
4. New access lane of the A2-motorway on the junction Kruisdonk, near Rothem. Drivers can stop at the access lane on a hard shoulder beside the driving lane. To get here from the city you can take bus line 59 or 159 until busstop "Kruispunt" in Rothem, then walk south along Ambyerweg / cycling path for 500 meters. Personal experience of Fverhart: despite a lot of space on the access lane waiting times are rather long. You can approach cars at the traffic light at the exit lane, many of them are crossing the road and driving up the A2. Everybody can take you to the next petrol station.
5. Hitchhiking north through Belgium - somewhere along Brusselseweg. Aim for Maasmechelen - if you reach the N78, it goes back into the Netherlands and meets the A2/E25 after the black hole of hitchhiking out of Maastricht is over.
Generally, if you are heading for Germany passing by or going to Aachen you should aim for a ride to Heerlen, where you can hitchhike again on the N281 towards Aachen. Standing on the motorway junction just before Heerlen should be avoided, because it is not allowed to stand there.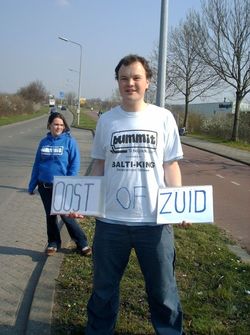 East towards Gulpen, Aachen (N278/"Cadier en Keer")
Take the bus #53 or #54 from the center towards Akersteenweg (you can also walk, but it takes a while; cycling is faster). At this bus stop you'll find a petrol station[1]. There you can try to get a lift towards Aachen in Germany. You might have to get a few lifts, village to village, along the N278 aka "Cadier en Keer", but you shouldn't ever have to wait very long. Usually a lift to at least Vaals, which is right before the border and Aachen, is possible.
South towards Liege (A2) E 25
Follow the rail track from the central station out of the town in a southern direction from the backside exit (use the bridge over the rails). At the first rail/road crossing south of the station hike on over the cycling path and later, still by the side of the railway, over Sint Gerardusweg. Follow this way until the end, thus you walk under a bridge (John F. Kennedysingel). This is the junction Europaplein. Keep walking 100 meters ahead to the motorway ramp. Average wait is about 10 minutes, max. 30 minutes. Longer rides are not common. Petrol station between Maastricht and Liège (still in the Netherlands) is not very busy, but can give longer rides into France. Knowing the good spots in Liège to hitch-hike is a good idea.
Best place towards Hasselt is at or just after the traffic lights at the crossing of Via Regia and Canteleerstraat, the first crossing after the traffic square Via Regia. Expect short rides to Veldwezelt, Mopertingen and Bilzen. You will reach the motorway at Diepenbeek or Bilzen, where you can easily get further. All the motorway access lanes in Hasselt are suitable for either Brussels or Antwerpen. Personal experience of [[User:Fverhart|Fverhart]: Average wait of about 10 minutes and you should accept every ride that takes you further on the Belgian N2. Just before Bilzen you can hitch-hike at the roundabout towards Hasselt and further into Belgium.