Difference between revisions of "User:MrTweek"
Jump to navigation
Jump to search
m

Line 49:
Line 49:
 

== Planned Trips ==

 

== Planned Trips ==

 

=== Real Plans ===

 

=== Real Plans ===

−

* To southern France, summer 2010.

+

* , 2010.

 

=== Dreams ===

 

=== Dreams ===

 

* Hitchhiking from [[Europe]] to [[Australia]].

 

* Hitchhiking from [[Europe]] to [[Australia]].
---
Revision as of 08:56, 21 September 2010
<travelmap countries="de,nl,be,fr,lu,at,hu,pl,ch,gb,ie,sk,cl,cz,li,si,hr,ba,al" width="507" description='Countries, where MrTweek has hitchhiked' />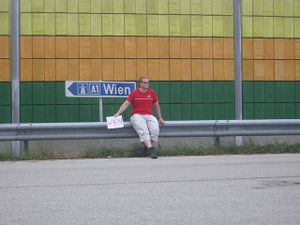 About
MrTweek is a hitchhiker, currently living in Karlsruhe, Germany.
So far, he hitchhiked in Germany, Netherlands, France, Belgium, Luxemburg, Austria, Slovakia, Hungary, England, Wales, Ireland, Poland, Switzerland, Chile, Czech Republic, Liechtenstein, Slovenia, Bosnia, Croatia, Montenegro and Albania. He speaks German and English fluently and has some basics in Spanish, French, Dutch and Italian.
He started hitchhiking in May 2006 and did around 25 000 km since then. See details on his overview of hitching Trips.
He also tries to keep track of his hitching trips on google maps (kind of outdated though). Check it out.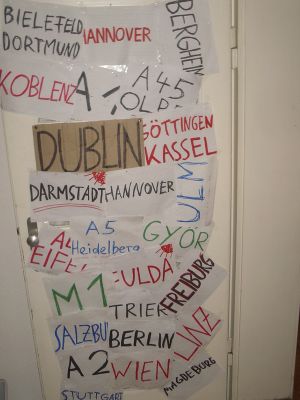 Personal records
Longest Rides
Fastest Trip
Longest distance on one day
Fastest Lift
Slowest Lift

Probably less than 20 km/h with a tractor for maybe 5 km between some villages in Germany, September 2010.

Worst waiting time

6 Hours for 18 km from Bratislava to the Hungarian border, while walking half of the distance, August 2006.

Biggest amount of people hitched with

About 40, on the back of a little truck in Berlin, May 2009.
Projects
Hitchwiki.org runs on MrTweeks webserver, along with some other webpages.

He developed Liftershalte.info, a web-based map, where hitchhikers can mark good hitching spots.

He works as a volunteer for abgefahren e.V.
Organizer of the abgefahren hitchhiking championships in 2008, 2009 and 2010.
Planned Trips
Real Plans
Dreams
Contact