User:Carl
Jump to navigation
Jump to search
About Me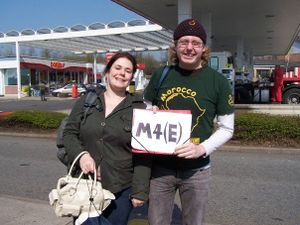 Hi! I'm Carl, I'm a student currently living in Cardiff, and studying Politics and French. I love to travel, and have hitched mainly in France, but also between Cardiff and Morocco, for a charity called Link Community Development, which took five days and was a lot of fun. My first hitch was from Bordeaux (where I lived) to Barcelona, and although I thought it was a crazy idea at first, I was soon hooked. In September 2007 I plan to hitch from London around France, before flying home from Bordeaux (I can't resist cheap flights, and have to be home on the 25th).
Vital Statistics
Trips:
Bordeaux - Barcelona and back (May 2006): Six of us holidayed in Barcelona, sleeping on the beach at Barceloneta. Highlights included a free night in a 4* hotel on the way there, drunk swimming in the sea at 5am, and watching the sun rise with my friends while not sleeping on beach.
Bordeaux - Carcassone and back (June 2006): To visit family in Les Corbières.
Cardiff - Morocco (April 2007): A charity jaunt to Morocco. A full account can be found here.
Cardiff - Bristol and back (July 2007): Day trip to Bristol, didn't fancy the train fare. Got a ride in a Range Rover, and met another guy called Carl. Beats a dull hour on the train, and I got a nice tan while waiting.
Countries hitched in: France, Andorra, Spain, United Kingdom, Belgium, Luxembourg
Total Distance Travelled: 4,980 km
Longest Distance in 24 hours: 998 km (from Luxembourg to La Jonquera, Spain, en route to Morocco).
Longest Ride: 1,231 km from La Jonquera, Spain, to Benhavis, Spain. This involved two nights in the truckers cab, which conveniently had bunk beds.
Quickest pick-up: In Luxembourg we stopped at a motorway services on the E25 towards Metz, used the toilets, approached a trucker leaving the restaurant, who offered to run us to Spain. We were in the building less than five minutes.
Longest pick-up Spent the entire day on the roadside north of Barcelona trying to get back to France. The traffic was too fast and wouldn't stop. I got bad sunburn, and when we got a lift back to Barcelona we slept the night in the park next to Sants station, where my bag was stolen. Fortunately I found it on the edge of the park, with everything present except a bottle of gin and 5€ from one of the pockets. Useful tip: keep your wallet and passport in your sleeping bag when sleeping rough. Eventually we took the train to Perpignan and hitched from there.