Difference between revisions of "United Kingdom"
Jump to navigation
Jump to search
m

m

Line 71:
Line 71:
 

[[es:Reino Unido]]

 

[[es:Reino Unido]]

 

[[fi:Yhdistynyt kuningaskunta]]

 

[[fi:Yhdistynyt kuningaskunta]]

 
+
 

[[pl:Wielka Brytania]]

 

[[pl:Wielka Brytania]]
---
Revision as of 03:03, 22 January 2012
United Kingdom

Information
Language:
English; recognized regional languages are Welsh, Irish, Ulster Scots, Scots, Scottish Gaelic, Cornish
Capital:
London
Population:
60,975,000
Currency:
Pound sterling (GBP)
Hitchability:
<rating country='uk' />
Meet fellow hitchhikers on Trustroots or BeWelcome
<map lat='54.6992335284814' lng='-4.130859375' zoom='5' view='3' country='United Kingdom' height='420'/>

The United Kingdom is a member state of the European Union which forms the so-called Common Travel area with Ireland and is not part of the Schengen Agreement. Hitchhiking in the United Kingdom is feasible although the British are a little surprised (especially in England) to see people still doing it these days since it has become a dying trend largely due to the safety worries, insurance issues and very busy roads. You will still manage a ride somehow but you really need to be at the right spot. Hitching in Scotland or Wales tends to be more easy than in southern England although this depends from county to county. For example, the rural mentality in the South West makes it a lot more easier than trying to hitch in the South East or . It seems the closer you are to big cities, especially London, the harder it is.
Like anywhere else, it is illegal to walk on motorways, and so hitchhiking is best done from the bottom of slip roads and at service stations (at discretion of the owner). Highways Agency officials may question you if you hitch from sliproads on motorways as technically you are not allowed to do this, but the police will not pay any interest; the Highways Agency staff are more pedantic than the police regarding that.
When traveling a long distance on the motorways it is best to stick to the service stations as getting a lift on a slip road will take an exceptionally longer time. Don't get dropped at any motorway intersection junctions (M25/M4, M4/M5 etc.) as traffic will be going too fast to stop and you will probably be picked up by the police. In case you do get dropped there your best option is probably to start walking a bit away from the motorway, and if you're a foreigner, attach a sign to your backpack saying e.g. from Holland.
Useful tip: In city libraries you can use Internet PCs for free after a short(ish) free registration (some want to see a passport, some aren't that strict). Legally this should be available to everyone, but in some localities, staff may say its only available to local residents or library members. In this case just ask to join the library.
If you're hitchhiking long distances and considering making a sign, in general people use the motorway names rather than the city names. For example, from London to Cornwall have a sign saying M4. But if you are hitching on a motorway with multiple cities (i.e. M1) it is an idea to use a sign with the city name (e.g. Nottingham, Sheffield).
Most people in the United Kingdom seems to be afraid of terrorist attacks, criminals or whatever. You can easily notice that junctions, stations, supermarkets and sometimes even pubs are video-monitored. They have naked scanners at the airports and so on. If you ask unknown people in cities in the dark for the way or for something, they can be terrified or anxious.
Climate
The UK is infamous for its rainy weather. The oceanic climate makes the weather changeable from one day to the next and causes comparatively long but light phases of rain. This doesn't mean it's always raining, but it can always rain. Be prepared and always have waterproof clothes with you. The rainiest months are October−January. As a rule of thumb, one could say the further west and the higher the elevation, the greater the rainfall. Contradicting the cliché, some parts of south and west England are surprisingly dry and may even have drought problems in summer.
An advantage of the mild oceanic climate is that it does not get extremely cold or hot.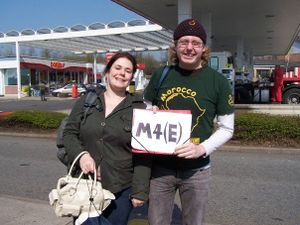 Hitchhiking from England to France is possible. Just hitchhike in direction of Dover along the M20 in the South East to reach the ferries or The Channel Tunnel. Once you're there, you could either try to find a lift in Dover or in a more relaxed atmosphere on one of the services along the M20, especially the Maidstone Services.
You can also hitch from the Immingham docks near Grimsby to Zeebrugge on a truck ferry. Hitching from Scotland to Scandinavia is also possible, see Scrabster. Due to fears of terrorism and illegal immigration authorities may ask you not to wait near the docks.
Hitchiking to Great Britain is possible. When coming from France, make sure you stay on the A26. Loads of truck drivers are heading from Switzerland, Luxembourg and Germany to Great Britain. So if someone offers you a ride to Lille, make sure you stay on the A26 or you might get stuck.
If coming from Zeebrugge note that the truckers usually can have 2 passengers on the manifest so if you travel this way you don't need to pay for a ferry ticket. Cars usually charge for every passenger on this route, but often from France it's a price per car no matter how many are inside, for example from Calais or Dunkerque. You might be better off hitching with a car, because truck drivers are often more suspicious of people who want to be taken across the channel - their livelihood depends on it, as UK police tend to arrest anybody who knowingly or not help illegal immigrants to enter the UK.
Hitchhiking from or towards Ireland
There are ferries from Wales (Holyhead in the North and Fishguard in the South), from Scotland (Troon, Cairnryan, Stranraer) and from England (around Liverpool). Currently, it might only be possible to get across without paying if you can find a sympathetic driver who allows you to hide in their vehicle, as every passenger pays separately.
From Birkenhead there is a ferry with DFDS seaways that goes either directly to Dublin or Belfast. Two ferries per day, one in the morning and one in the evening. If you can find a driver who has already paid for his car + 1, then it is possible to amend that ticket and check in with the driver for only 10 euros. It would still be paying, but on the ferry you get a dinner buffet and breakfast buffet.
Your driver will also get a cabin with his ticket with four bunkbeds in it, so you will depending on wether your driver wants you in the cabin or not, get a night on real sheets. (Cheapest alternative I have been able to come across if you are still to do it in any legal way. Credit to SamanthaofTarth on the westeros internet forum for this initial info.)
Countries
For more specific information about the countries, islands and cities within the United Kingdom, have a look at this overview of British constituent countries and affiliations:
Links