Trento
Jump to navigation
Jump to search
Trento

<map lat='46.063226319271095' lng='11.106491088867188' zoom='13' view='0' float='right' height='300'/>
Information
Country:

Italy
Population:
113,000
Licence plate:
TN
Major roads:
A22
Meet fellow hitchhikers on Trustroots
Trento is a city in the North of Italy, it's on the motorway leading to Innsbruck and Munich.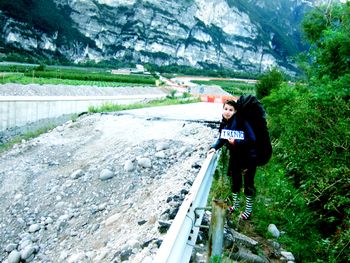 Hitchhiking out
Instead of the roundabout, it's better to walk a bit South and try the other motorway entry. You might be able to hitch a ride already on the SS12.
This might be tricky. There is a roundabout, but not too much space for cars to stop. It might be better to find a spot closer to the city centre. If you're into that sorta thing, for 15 euros you can take a train all the way to Kufstein, which is very close to the German border.
You can also try the "statale" going North, which is Via Brennero.
Take tram to Lavis from railwaystaton. The price is 1.20. To get to the petrol station(Autogrill) you need to walk on the way to Trento about 700 meters and cross the fence on the right.
please add
Arriving
If you are dropped at the petrol station on the autostrada some kilometers North from Trento you can ask the staff if they can let you out. There is a tramway that takes you from Lavis to Trento for EUR 1,20.