Tirana
Jump to navigation
Jump to search
Tirana

<map lat='41.33' lng='19.8' zoom='12' view='3' float='right'/>
Information
Country:

Albania
Population:
616.500
Licence plate:
TR
Meet fellow hitchhikers on Trustroots
Tirana is the capital of Albania.
Hitching Out
There is a train running from Tirana to Shkodër (roughly 1,5 Euros), which can be an interesting experience.
West towards Durrës (over Vorë)
Walk along the "Durrës road" (Rruga Durrësit) until you find a suitable spot. We walked about 15 minutes, went past a roundabout where you can board minibuses to Durrës and hitched where there is an extra lane for buses. Keep in mind that the further you walk the faster will the cars drive.
South towards Vlorë
The main road south goes from Durrës, so use the advice above. Have a look at the map so you know approximately where you want to get out. Let your driver know that you really don't want to go into the city, but would like to get dropped somewhere outside, on the road leading south.
It is good to take a bus to Elbasan, from where you can start hitching.
Hitching In
Entering the city from the west, on Rruga Durresit (coming from Durrës, or from the north) could be slightly tiresome if you get dropped early on. The road through the suburbs could become rather long, and it's dense with very busy traffic. Catching a ride to the center could be difficult, and you might be better off just walking or taking a city buss. But it's on the other hand certainly not unlikely that your ride takes you straight to the center, or wherever you are going.
Public Transport
Overland Bus
From the central bus station you will find a bus to Tetovo, Macedonia. It will pass Durrës, Elbasan, Qafë-Thanës-Struga border crossing, Struga, Tetovo. You will have to pay €10 for a ticket to Struga. There is one departing early in the morning.
Places to Visit
Places to Avoid
Accommodation and Sleep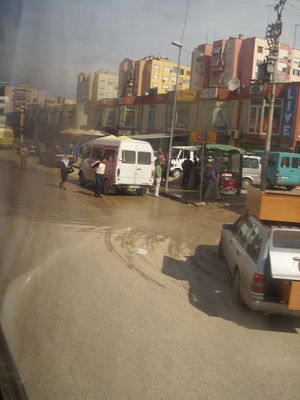 Private sector
In Tirana one can easily get accommodated in so called private sector: these are people who have their apartments arranged to accepts occasional tourists. It is safe, quite cheap (you can talk about how much you can pay), you get friendly company (if needed) and tips how and where. To find these kind of places just ask some more tidily looking folks on the street, or in Internet cafes and other similar places.
Hostel
There is a nice and individual hostel (with free internet access): Tirana Backpacker Hostel, Rruga Elbasanit 85.
Other Useful Info
In Tirana (and probably in other cities, too) you can find very cheap local food markets with really good and fresh vegetables, such as tomatoes, cucumbers, green peppers, olives, etc. Local olive oil and freshly baked bread is something everyone has to taste!
Do not drink tap water in Albania.