Theth
Jump to navigation
Jump to search
<map lat="42.39699837104811" lng="19.75643375868309" zoom="12" view="0" float="right" />Theth is a small village up in the mountains in Shalë municipality, northern Albania. Nearest bigger city is Shkodër.
Village is surrounded by amazing mountains views and trekking paths in Theth national park.
It's quite remote and road to to there is very bad over the mountains. It's recommended to access only with SUV vehicle but you would also see more shabby minibuses doing the route. You can easily hitchhike some tourists, but it might take a while as it's not many cars passing. It can take up to 2 hours to do the mountain crossing, depending on driver's skills.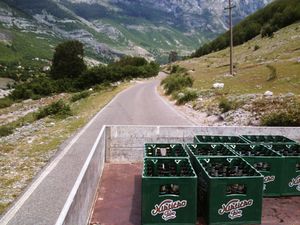 You need first hitch a ride to Bogë, the last village before Theth. From Bogë anybody going towards Theth will basically take you all the way. If not, getting stuck up in the mountains might be dangerous without proper gear, but you can always walk your way down.
Remember that village gets isolated over the winter, so be cautious during spring/autumn seasons.
As of summer 2013 new asphalt road was being built towards the village, but workers were telling they will do only half the way. Place is probably going to become more touristic because of better road.