Tallinn
Jump to navigation
Jump to search
<map lat='59.39686968816479' lng='24.770050048828125' zoom='10' view='0' float='right'/> Tallinn is the capital of Estonia.
Hitching in
If your driver is not going into Tallinn, but only proceeding on the Tallinn ring road towards Narva (as many trucks do), don't get off at the first roundabout where there is a road into the city. From there, it is a long distance into the center. Instead, stay with the driver until the last roundabout east of Tallinn where the E20 branches off towards Narva. From here the distance to the center is only about 12 kilometers and it is easy to hitch into the city.
Hitching Out
Take the bus #18 (close to the Viru Gate entrance to the Old Town, where the McDonalds is) to the final stop, about a 30 minute ride. There's a large road to the south and traffic is going fairly slow. One stop earlier you also find a petrol station. Also bus #10 and 14 stop nearby, at their end stations.
It may be possible to hitch from the ferry terminals. When arriving at the port from Helsinki on Viking Line or Eckerö Line, just walk to the Logi street, some 200 m away from the passenger terminal towards the city and stick out your thumb. Many trucks can take you all the way to the Polish border. There is probably a similar place for truckscoming with Tallink's ship, as well.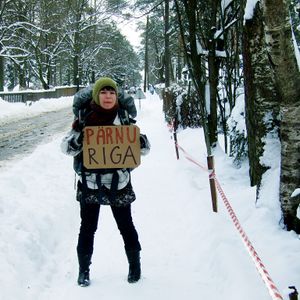 Take one of the buses 7/12/13/50/54/55/58 or better still tram 2 or 4 to Pae. There hitch from the crossroad of Peterburi tee and Pae. Although buses in the 100's and 200's (e. g. 156) go there as well, they drive out of town and are therefore much more expensive than normal buses. Also, Pae street is still pretty much in town and hitchhiking from there might be a bit more difficult.
A better option is to hike from Pirita Jõgi, which is on the border of Tallinn. To get there one has to walk for some distance, though. One can go on any bus leaving from Balti Jaam to Loksa (e.g. 152). These are also buses that leave town and therefore cost more. To get there by Tallinn's public transportation one can take one of the buses 7/13/30/49 or 54 to Priisle then walk alon Rahu tee until one reaches Peterburi tee and walk eastward. It's best to start hitchhiking from after the bridge over Pirita river.
Southeast towards Tartu
Take bus #2 to Pühamägi (next stop after the airport) and you can hitch just after the bus stop. Another option is to take bus #62 to Lindakivi, then walk to Tartu mnt/Järvevana tee.
Public Transport
Not a whole lot of ticket control in trams, but if you hit one you can survive with the help of kind local people. A ticket bought from the driver is 25 kroons (February 2010) and must then be validated in a machine on the bus.