Difference between revisions of "Norway"
Jump to navigation
Jump to search
m

Line 48:
Line 48:
 
 
 

Remember, hichhiking is about patience, so maybe you'll have to wait for a good while (it IS true that there are not that many cars), but just enjoy the beautiful landscapes and you can always walk along the roads, they are not highways properly said.

 

Remember, hichhiking is about patience, so maybe you'll have to wait for a good while (it IS true that there are not that many cars), but just enjoy the beautiful landscapes and you can always walk along the roads, they are not highways properly said.

 
+
 
+
 
+
 
+
 
 
 

== North Norway ==

 

== North Norway ==
---
Revision as of 17:06, 4 April 2016
Norway

Information
Language:
Norwegian, Sami, Finnish
Capital:
Oslo
Population:
4,848,474
Currency:
Norwegian Krone (NOK)
Hitchability:
<rating country='no' />
Meet fellow hitchhikers on Trustroots or BeWelcome
<map lat='65.33017791526852' lng='15.556640625' zoom='4' view='0' float='right' width='270' height='375' country='Norway'/>

Norway is a country in Europe. It is a member state of the Schengen Agreement, but is not part of the European Union. Its capital is Oslo. Its neighbouring countries are Sweden, Finland and Russia.
The main challenge while travelling in Norway is the rapidly shifting weather, so be prepared for anything, as they say here: There is no such thing as bad weather, just bad clothing.
Most people speak English well enough for reasonable communication. People have been told to be wary of foreigners. Recently, it's been all over the news that some gypsies wait on the road with a broken car and steal cars from people stopping to help them, and it doesn't help much, especially if you're not quite white. If you look like a hobo your chances decrease further. Look presentable to increase your chance of getting picked up and be friendly. Ask questions.
Hitchhiking culture
Norway is difficult to class as a good or bad country for hitchhiking (see the Discussion page). There are both very good and very bad feedback from hitchhikers in Norway:
Positive
Norway is not an easy country to hitch in, but it can be rewarding! Even though haike is not too common in Norway, people are very likely to pick you up and can be very friendly and helpful. Like in Sweden, foreign tourists and immigrants are more likely to pick up hitchhikers.
According to Francisco1 (also said by Fede Earlyturtle) although he didn't look very Norwegian and had no flag (see here below), just common nice cardboard signs, he always found people, many times locals (some foreigners also), any gender, any age, to pick him up, help him and give good advice. He doesn't agree with the idea that most Norwegians are unwelcoming to strangers, and even less nationalist or racist.
(see also: Norway, a paradise for hitchhikers)
Negative
According to thomasmyrman who hitched with a huge Norwegian flag, many drivers said they only stopped because it made them feel nationalistic pride and that it made the hitcher visible from far away. Consider having at least a small flag (even if you are not Norwegian) which you can buy anywhere in Norway. GrataGrata also had a bad experience.
(see also: No, it is not easy to hitchhike in Norway)
More advice
Norwegians have a tendency to always be on the rush on weekdays. Waiting times can be a bit longer around Oslo and in remote areas where traffic is very light. People expect some chatting since distances are long, and seem to have little tolerance for drug or alcohol use while on the road.
A large part of the population lives near the road, which extends from the Swedish border in the South to almost all the way North, so when going North it's pretty hard to get lost, as long as you are headed the right way.
The roads going to Bergen and the West Coast (E16, 7, E134) aren't very big, don't expect motorways. They look more like small mountain roads, and are very nice to hitchhike along, you can stand directly on the road and admire the landscape at the same time. In winter (and fall and spring also) be aware that they might be closed to traffic due to snowstorms or pollution in the tunnels. The information is available for all roads in Norway on the internet.
It's common knowledge that truck drivers are very friendly and that the hitching is great if you go out to the shipping areas around Dyre Halses Gate in Trondheim and North of StrandveienWhich one? Does this question refer to the previous misspelling of Strandveien?, but some hitchhikers have said otherwise. It's also much faster traveling alone considering that trucks and some commercial vehicle can only take 1 passenger. Around four in the afternoon, drivers have loaded incoming goods from that day and are leaving for a late/overnight haul to the next major city.
Do think of the weather, it can get pretty cold and rainy (or snowy) and the distances are very big between the more populated east side of the country and the cities in the West Coast, or the North. Maybe taking a warm tent as I did was the best idea ever, the experience of camping in the woods in those mountains was very nice.
Remember, hichhiking is about patience, so maybe you'll have to wait for a good while (it IS true that there are not that many cars), but just enjoy the beautiful landscapes and you can always walk along the roads, they are not highways properly said.
The Hurtigruten is a daily shipping service on Norway's coast, it stops in most towns along the way, starting in Bergen and going all the way up to Kirkenes on the Russian border. In many towns it stops for 3 or 4 hours and while it's in port, you can go onboard as a visitor for free. Just have your ID handy. Many ships have saunas and some have hot tubs that you can use for free.
In Statoil gas stations, you can buy one of their cups for the equivalent of 30 euros and drink as much coffee, tea and hot chocolate as you like for one year.
North Norway
Hitchhikers had varying experiences in the beautiful North. Some locals hitch regularly to commute. You can hitch a ride from mostly anywhere as there is not much traffic. Another challenge are the long winter nights, which make the hitchhiking day very short unless you are well equipped for night hitchhiking. In the North, total darkness sets in from around mid-November. Don't forget the specifics of winter hitchhiking.
Hitching rides on ferries
If possible, try to find out the ferry schedule. Hitch on the side where the cars drive into the ferry because in many places it's hard to hitch on the other side. You can maybe knock on people's windows when they wait for the ferry, especially if they come early and have to wait long, it's easy to talk to them. You can maybe try to hitch into cars that have already paid for the ferry but on almost all car ferries, and definitely all the short distance ones, you pay extra for each passenger so that would be sneaking. In a few ferries the driver might have paid for the car not dependent on passengers, but that is a rare case. Blackriding the ferries is also very easy most of times. Just don't show up too much, there is always a queue (long or not) of cars waiting for it, ticket sellers are on board or at the harbour and they go directly, one by one to each car to make the ticket. When the ferry arrives and the ticket sellers (can recognize them easily) are busy making tickets to cars just enter the ferry and nobody will tell you anything, the guys at the entrance of the boat are not supposed to check tickets just to tell cars where to go so they won't stop you nor anything, just think that you have already paid before. Of course if there are other "backpackers" stay away from them cause they are the first to be approached for tickets when the boat arrives. Fede, his brother and a Polish hitchhiker (that makes 3 people together) easily entered in that way every time, from Lofoten Islands to Bodo as around Sognesfjord and Bergen
Popular Ferry routes to Denmark and Germany are Kristiansand-Hirtshals, Larvik-Hirtshals (ColorLine), Oslo-Frederikshavn and Oslo-Göteborg-Kiel (StenaLine). With ColorLine, cars carrying up to 5 people don't pay extra, so it's possible to hitch a ride on the ferry for free (not correct any more as of November 2012: extra passenger is EUR 5. It would be an acceptable price, but since ALL of the drivers buy tickets on-line with 50% discount, it's almost impossible to catch a ride at the ticket office. We had to give up and hitchhike all the way to Oslo, Sweden and then Denmark. So you better don't rely on this possibility) StenaLine operates overnight only, so even if you manage to find a car, they'll still force you to pay for a very expensive berth (500+ kr). If you're heading to Denmark (the ports of Hirtshals and Frederikshavn are quite close to each other) it makes no sense to take the StenaLine from Oslo, because it takes a really long time (12h!!! that's the way to make you spend as much as possible on board) and you can sail from Larvik in about 4h, which is reasonably close to Oslo to reach in about 2 hours.
A note about hitching trucks! Alert, it is no longer possible to hitch trucks on Stena lines and probably Colorline as well. Only drivers allowed. when i asked several trucks in Frederikshaven they all said not possible.
Distances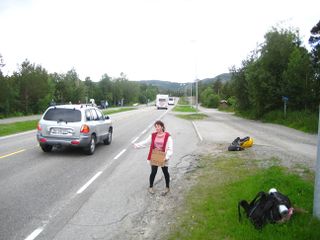 According to markus and abstorz, two dudes.
Stavanger - Mandal (near Kristiansand) - 1 day
Mandal - Oslo - 1 day
Trondheim - Mor e Rana - 1 day
Mo i Rana - Karlsøya - 1 day
According to Mila77, female
A i Lofoten to Tromsö 2 Days on quite low traffic, maybe possible on 1 day in summertime
Note by Mila77: (now Mila.77) Please do calculate more time than usually in Norway. Remember they have a huge land but very few inhabitants. In the areas outside of cities, there are almost no people living. That means especially in the north, you will need much more time for the same distance than in Germany for example. You cannot compare this. Be prepared to wait much longer than you have ever in your life. There are few cars coming. However those who pick you up are very friendly.
According to Thor-Rune, one guy.
According to J. O'Hannes in 2012, one guy
According to Peregrine in 2013, one gal
Stavanger - Mandal - half day (14:00 to 18:00)
Mandal - Oslo - "1 day" (09:00 to 16:00)
Mandal - Kristiansund - 30 minutes (10 min wait)
Kristiansund to Tonsberg - 4 hours (10 min wait)
Tonsberg to Oslo - not recommended as it was bad to wait on interstate: 1st attempt - 30 min, failed, got something to eat, returned and it was rush hour - the slower traffic helped! 10 min wait, hour ride to Oslo!
Oslo - Swedish border - a few hours, 20 min wait in the rain, do not use hitch wiki's suggestion for the spot, 2 women took pity on me because they'd seen others standing at the "dangerous spot" and it was raining...
According to Francisco1
consider a complete day (with as much light hours as possible) for Oslo - Bergen I definitely recommend taking road 7 passing by the Aurlandsfjordet (fjord) at Aurland and Flåm, very beautiful
Distances - Note: By car, not including waiting time and change of rides:
Oslo - Bergen : ca. 7 hours
Oslo - Trondheim: ca. 7 hours
Oslo - Kristiandsand: ca. 4 hours
Oslo - Stavanger: ca. 7 hours
Oslo - Tromsø: ca. 22 hours
Stavanger - Kristiandsand: ca. 3 hours
Stavanger- Bergen: ca. 3,5 hours (2 ferries)
Trondheim - Bergen: 10 hours
Trondheim - Tromsø: 15 hours
Most southern point of Norway(Lindesnes) - northern point (Nordkapp): ca. 1 day, 8 hours.
Hope that's of any help :) Check out [1]this :)
License plates
There is a coding for areas: the two first letters identify the region in which the vehicle is first registered, but as the plates migrate with the vehicle and Norwegians travel pretty much all around the country, it's not something hitchhikers rely on. See also List of codes on Wikipedia
Useful Language Bits
North - nord
South - sør
West - vest
East - øst
Vowels: Vowels are pronounced very differently in Norwegian as opposed to English
A pronounced "ah" as in bar
E pronounced "eh" as in heck
I pronounced "e" as in here or "i" as in hill
O pronounced "oo" as in moon and in other times, "aw" as in law
U pronounced "ou" as in soup
Y pronounced "ew" as in few (rounded lips)
Æ pronounced "a" as in bag
Ø pronounced "er" as in "her" without the R sound
Å pronounced "aw" as in "law"
Additionally, the consonant J and the combination GJ is pronounced the same way you would pronounce Y (young). For instance, "jobb" (work) would be pronounced "yobb".
Regions & Cities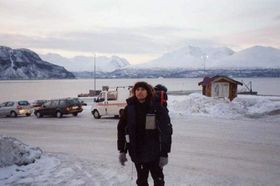 In the North
Other Cities
Borders
Norway is part of Schengen and doesn't have border checks for people coming from Sweden or Finland. It does have a border with Russia though, and there are still checks for goods. Norwegian border checks can be picky, especially if you're crossing it with a truck and even more if it's an empty one.
Eating & Drinking
Food is expensive! Fresh fruits and veggies are even more expensive, especially in the North; but the dumpsters are full! especially of fresh fruits and veggies (mostly exotic like mangos avocados and bananas, tonnes of them but also of any other, from tomatoes to strawberries, blueberries, anything your appetite and taste may want) . Take as much food across the border as you can possibly carry, but no worries, when you will have finished it the dumpsters will surely fill your stomach, prefer small villages and towns than big cities since there is more food and dumpsters are (almost) always unlocked; plus food like oat, flat "fullkorn" bread, cooked legumes in metal or tetrapak boxes like beans, chickpeas, lentils, etc are definitely cheap or at least affordable (around 1E per piece but often even less) and constitute a good way to buy something in order to "borrow" from supermarkets (since the security is not really active) the expensive food you need and can't pay. guaka and Erga had a ride from Sweden all the way to Alta in the North and were smart enough to buy a box of food in a Swedish supermarket. Fede and his brother hitchhiked and dumpster-dived all across the country for 3 weeks, and paid very few money for food .
Accommodation & Sleeping
It's a common misconception that you can put your tent anywhere for as long as you like in Norway. Norway has very liberal laws on tenting that gives the campers a lot of rights, but it's important to know the limitations.
You are allowed (and even have the right by law) to put your tent anywhere that is defined as "outland", as contrary to "inland". That means, anywhere the land is not cultivated. For instance, it is not allowed in farmland, in a park, in a roundabout, or in a backyard. If it is, however, a untended forest or a wild-growing field, you can by right pitch your tent and stay there for 3 days. After 3 days you are required to move your tent.
Though you cannot by right put your tent in a place like a park, it is generally tolerated for a night, but don't leave your tent standing while you explore the city during the day. You can also ask at a place like a petrol station if you may put it up out back.
Few train stations are open 24h, it can be handy for a warmer night in winter time (Oppdall, Mosjoen ...) Other way to not freeze during winter, you can sleep in elevators on the train station like Paradis station in Stavanger. Nobody disturbed till 5:00 in the morning.
In Oslo, you can pitch your tent around the train station of Skullerud, or in Bygdoy (where you find most of the museums) walk West before the King's property. There take any trails into the forest.
The Torp Airport is closed overnight, but there is a nice forest just before the car park. There is as well a nice park on the hill in Sandfjord. Do not hitch on the motorway but take the secondary road between the airport and the town (Sandford train station is closed overnight). Oslo Gardemoen also has a nice pitch of forest somewhere inside that giant parking lot, you can even take the free parking shuttle bus back to the bus stop in the morning ;)
ENJOY YOUR TRIP !
See also
wikipedia:Norway wikivoyage:Norway trash:Norway nomad:Norway