Difference between revisions of "Murmansk"
Jump to navigation
Jump to search
(Tags: Mobile edit, Mobile web edit)

(Tags: Mobile edit, Mobile web edit)

 

(No difference)
---
Latest revision as of 18:45, 17 September 2020
Murmansk

Мурманск
<map lat="68.98" lng="33.09" zoom="10" />
Information
Country:

Russia
Region (oblast):

Murmansk Oblast
Population:
299,148
Licence plate:
51
Major roads:
M 18 E 105
Meet fellow hitchhikers on Trustroots
Murmansk (Russian: Мурманск) is a port city, located in the extreme northwest of Russia. It is the largest city within the Arctic Circle.
There's a very useful info about Murmansk on Russian page [1]]. Use a translator.
Hitching out
North-East towards Norway
Take bus #18 or trolleybus #4 from the train/busstation and get out at Dostoevskogo - one of the last stops before the buses return to the city centre. You can buy ticket in the bus.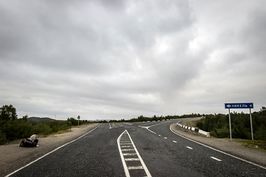 Although the Dostoevskogo stop will be announced via the speakers, it is recognizable from three small streetshops on the right side. Go out here. Walk a few meters down the road and you will see a recently built church on your right hand sight. Behind that church, you can see the Kola Bay and a huge bridge crossing that bay. This is the only in bridge around Murmansk over the Kola Bay and forms, therefore, the connection between the M18 highway with Murmansk.
Before entering the bridge, you will see traffic lights. This is a good place to put your thumbs in the air to get a ride towards the Norwegian border.
Useful Info
Need Wifi? There's three good options: McDonalds (Works until 10 pm), the hotel Arktika (just sit in the lobby - noone will bother you. If what there's a bar that works until 2 am) and Моисей (it's a shopping center - at the street corner vis a vis the train station you can enter into a basement bar that is open 24/7 - address Komintern 9/1)
Trashwiki & Nomadwiki

Subdivisions of
Russia