Lisbon (Lisboa in Portuguese) is the capital of Portugal, the westernmost capital of continental Europe.
Lisbon

<map lat='38.69087' lng='-9.126892' zoom='10' view='3' />
Information
Country:

Portugal
State:
Lisboa Region
Population:
500,000
Licence plate:
–
Major roads:
A1, A2, A12, A19
Meet fellow hitchhikers on Trustroots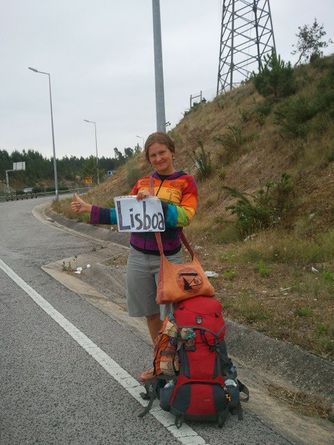 Hitchhiking out
Take bus #25, #45, #81 or #745 to the area east of the airport, the closest bus stop is Qta do Morgada [1]. Note that you can calculate how to get there with public transport on Google maps! From there walk to the Galp petrol station next to it [2]. This petrol station is in "Segunda Circular" (the ring), right before the motorway A1 direction north towards Porto, Coimbra & Aveiro. But it could be difficult to get a ride here because a bit further on the same side of the petrol station, there is an exit which goes back to Lisbon. Most people might only come to fill up their car and then return to the city. Ask for a lift to "área de serviço de Aveiras", the first gas station in the A1. You can check out all petrol stations along the A1 motorway here
In case you're not going far north, consider taking the train to get out of Lisbon - the "zapping" ticket costs 1,80euro for up to 1h30 of travel, no matter where you go nor which train you take (June 2012). In Vila Franca de Xira (30min by train), for example, you have both the national road and the toll for the A1 motorway in a walking distance.
Option 1: Go to Alcântara (Alcântara train station or bus e.g. #720, #52, #24, #773) and walk to the acess of the motorway that leads you directly to the bridge over the river direction south via the A2 motorway. Walk up the on-ramp and immediately before the motorway there'll be a little parking space where cars can stop [3]. Traffic on the bridge is huge so the cars aren't going that fast.

Be aware that it's forbidden to hitch-hike there because the parking plot is considered as part of the highway. You may be spotted by the camera and they may come specially to bid you to leave the place.

If you don't want to risk the police, you can hitch legally at the entrance of the ramp, there is plenty of space to stop and cars drive slow enough.
Option 2: Take the Fertagus train, at Entrecampos or Sete Rios train station for example, cross the river and get off at Foros de Amora [4]. From there just walk under the A2 motorway and get to the petrol station right next to it. Station is surrounded by net fence together with motorway so in case to enter it is needed to ring the bell next to gate leading to backup. Other option: right after crossing under the highway, go up and get around the highway fence and then walk right next to the highway for 100m until the gas station. This will be the first petrol station on this motorway and from there you can ask people which way they headed and take off towards south or east. But as a lot of drivers in this station are going in different directions or very short distances, it is good to take first ride to service station in Palmela where it is much easier to get longer ride.
Check out all the petrol station on A2 motorway and A6 (towards Spain).
Go to the train station Sete Rios (by train or by metro to Jardim Zoologico). Leave the train station in direction of Campolide (South) and when you take the southern exit go straight (follow the street over some kind of bridge), turn right at the crossing and you will see the motorway in front of you. Go behind the bridge to the roundabout, you'll see the directions towards Sintra. Plenty of space and cars go not to fast. You will get on the IC19 going all the way to Sintra. If you don't get a direct lift try to hitch from exit to exit.
More information
Public transport in Lisbon is very easy to navigate without paying. The metro has glass doors that open and close when you flash your card and pass through - simply follow somebody else. note that you must follow somebody again when you leave. the commuter trains to Sintra and Cascais have bigger, faster doors, you have to follow much closer, and if you aren't careful, they can deliver quite a punch. If there are no people around to follow, climbing over the gate is a possibility. There is typically a security man standing around in each station, but it isn't his job to stop blackriders. occasionally there may be controllers. typically they are in a big group at the exits of big stations where different lines meet, though they are rare.. In the buses in lisbon, occasionally controllers come on to the bus and check people. but the driver won't stop you or say anything when you get on. just watch at the big stops for people in controller jackets. If you don't have many bags and like adventure, try tram-hiking. There are many old-style trams gong around lisbon, and you just hold on to the back door, on the outside, as it goes along. be careful and have fun!
Wild camping in Lisbon.
There is a great spot for it, free and out of the way so no one bothers you. Go up the Rue Professor Viera Natividade towards the bus stop and take the bridge on your right, then when you see the apartment building you take the left road and follow it out to the motor way. Once there hook left again and you'll be taken into a wooded area that is full of trees and perfect for camping, the only draw back is that it is loud next to the road, but no one will find you here. or if you skip the bridge and go up the road a ways there is an old abandoned building that is perfect and sheltered
BRISA has information on all the motorways in Portugal and their exits and petrol stations.