Difference between revisions of "Leipzig"
Jump to navigation
Jump to search
m

Line 7:
Line 7:
 

|motorways = [[A9 (Germany)|A9]], [[A14 (Germany)|A14]]

 

|motorways = [[A9 (Germany)|A9]], [[A14 (Germany)|A14]]

 

}}

 

}}

−

'''Leipzig''' is a city in the [[Germany|German]] ''Bundesland'' [[Saxony]].

+

'''Leipzig''' is a city in the [[Germany|German]] ''Bundesland'' [[Saxony]].

 
 
 

== Hitching Out ==

 

== Hitching Out ==

Line 56:
Line 56:
 
 
 

[[de:Leipzig]]

 

[[de:Leipzig]]

 
+
---
Revision as of 17:33, 6 September 2009
Leipzig

<map lat='51.34905637539417' lng='12.192935943603516' zoom='13' view='3' />
Information
Country:

Germany
State:

Saxony
Population:
512.000
Licence plate:
L
Major roads:
A9, A14
Meet fellow hitchhikers on Trustroots
Leipzig is a city in the German Bundesland Saxony, and is famous as best alternative city! you have to go in Plagwitz, Südvorstadt and Connewitz!.
Hitching Out
First option
Take the bus #131 from the city center towards Dölzig and get out at Holländische Mühle, one stop before the Nova Eventis center. This spot is some meters before the direct ramp onto the A9. Try to find your ride here towards Berlin or Munich!
Second option
It's also possible to get to the spot described above with tram #7 in direction Böhlitz-Ehrenberg. Get out at the tram stop Georg-Schwartz-Strasse/Merseburger Strasse. From there, walk back some 10m towards the main road and walk right towards the Aral petrol station. Follow the road for 200m until you passed a Lidl supermarket, and after that some meters further you'll find a bus stop (Lindenau Friedhof). From there you can easily hitchhike a ride towards Dölzig and/or the highway. Make sure to get out at the last traffic lights before the highway. Just behind the traffic lights, there's a small bay where cars can stop easily. A sign might be useful. Hitchhiking ~800m further directly at the on-ramp is pretty dangerous, there's no place for cars to stop and traffic passes by pretty fast.
Third option
There is also a nice petrol station on the B2, it's the last petrol station for people coming from the city center(?). Take tram 14 to Messegelände. Go back in direction of the previous tram stop (street Alte Dübener Landstraße), cross the Street (Messe-Allee) and follow the bike path. It underpasses the railway and you finally get to Zschortauer Straße. Turn left, there the back entrance to the petrol station is almost immediately on the right. Google Maps doesn't know about the bike path but you can see it in satellite view.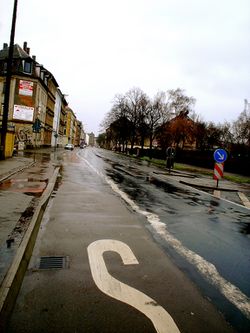 Take the Tram #15 from the city center towards Meusdorf and get out at the last station. Go 250 Meters further to the next bus stop. This is the best spot to Dresden over A38 and A14/A4.
It's incredibly easy to blackride in Leipzig.
Overnight
There are several youth hostels in Leipzig. There is one about a mile out of the city. It's easily walkable, just head out left from the train station's main entrance, and follow the road round to the right. Keep walking past a head shop, and take a left, then a right on a street that runs parallel. Keep walking to the end of the road, then turn left over the bridge over the train tracks. After you've walked over the train tracks, there's an interesting little village made up of wendy houses. Walk through this, heading to the far corner. Turn right, and walk parallel with the train tracks. You should she an old pub in the middle of an HLM type housing estate. Make a note of it, because it does fantastic food. Carry on for about another 200 yards, then hang a left. The youth hostel is on the left, just on a small service road.
Public transport / Blackriding
the information below does not apply to the S-Bahn city train. See Deutsche Bahn instead
Getting caught:
fine is 40 EUR, payable by bank transfer in about 10 days
I don't know if there are special rules if you possess a non-German ID
Anyway...
Ticket machines outside trams give you unstamped tickets
You can invalidate existing tickets in both trams and busses, the machines beep when you do so (check if there is a ticket stamping machine in the rear of the bus, AFAIR that's usually the case but better make sure)
Inside most trams, there's a ticket machine that gives you a stamped ticket (just hanging around there won't serve as excuse if you're controled)
Bus drivers also sell stamped tickets
You could buy a (short range, if you're on low money) ticket and keep it unstamped
Most transportation rules for German public transport are along the lines that you have to present a valid ticket if you're asked to do so (I have not checked specifically for Leipzig)
You need to get the ticket stamped before the traffic control reaches you
If you did, you can (and should) argue that you just forgot to stamp it before and have a valid ticked nonetheless
After 8pm, you might need to get in busses at the first door and (then) bus drivers are supposed to check tickets(?)