Latvia
Jump to navigation
Jump to search
<map lat='57.029' lng='24.599' zoom='6' view='0' float='right' country='Latvia' /> Latvia is a Baltic country. It is a member state of the European Union as well as the Schengen Agreement. There are a lot of hitchhikers and hitchhiking is fairly easy. Even in the middle of nowhere, along important route, even the E67 (Via Baltica), it's quite easy to get a ride.
Legality
It is allowed to hitchike in Latvia (at least there are no laws which forbid that), but of course in places where you do not danger road safety. Very, very rarely (but still) people expect you to pay for a ride. It is a common practice here to use signs of the cities, countries where you want to get a ride, but thumb also works fine.
Cities
Language
If you don't speak Latvian, Russian is often a good way to communicate with people who don't speak English. Just ask if someone speaks English by asking "Gavarite pa-angliski?" in Russian. Then people are able to choose which language they prefer to communicate in.
in English
Hi! Thanks for stopping! I don't speak any Latvian and I am trying to hitchhike to Lithuania. I need to stay on this same highway until I reach Siauliai, Lithuania. From there I will go East toward Radviliskis. If you are not going that way, please drop me off in a good spot to continue hitchhiking along the way.
in Latvian
Sveiki! PAldies, ka apstajaties! Es nerunaju Latviski, es stopeju uz lietuvu. Man jabrauc pa so celu (E77), kamer tiksu lidz sauliem. Es dodos austrumu virziena uz radviliskis pec tam. Ja jus nebraucat uz turieni, ludzu izlaidiet mani tada vieta, kur es varetu turpinat stopet!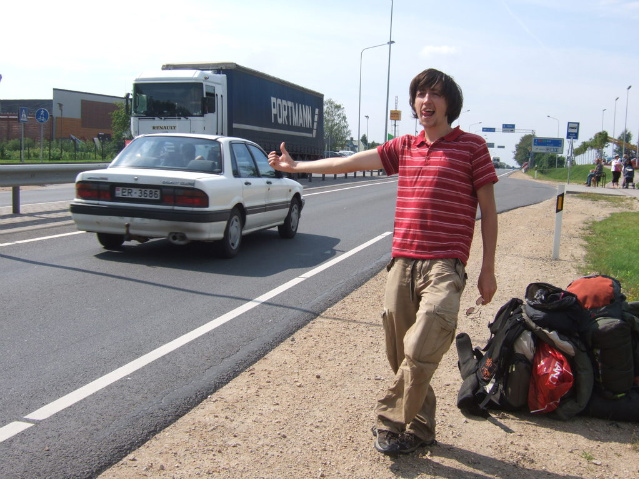 Jason thumbing in Northern Latvia.