Germany
Jump to navigation
Jump to search
Germany

Information
Language:
German
Capital:
Berlin
Population:
82,314,900
Currency:
Euro (€)
Hitchability:
<rating country='de' />
Meet fellow hitchhikers on Trustroots or BeWelcome
<map lat='51.39920565355378' lng='9.9755859375' zoom='5' view='0' height='320' width='260' float='left' country='Germany' />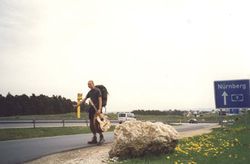 Germany is a member state of the European Union as well as the Schengen Agreement. It is a great country for hitchhiking, both on motorways (via on-ramps, service stations, more seldom - parking lots) and local roads. Motorway is called Autobahn in German, while a service area is Raststätte. Latter one is a very common place for hitching a ride - many drivers stop there for fuel and some rest. There you will often find maps of Germany and surrounding countries that indicate every single petrol station or any other service area located on motorways; in addition, there are map stands (usually by the main entrance to a petrol station) that give a general overview of all service areas on the territory of Germany. Motorway ramps usually are a good option to get a free ride, too. One has to make sure, though, not to end up on co called Schnellstrasse (it usually leads to motorways) where cars go fast and can not stop.
As a general rule, you should always stick to the "Autobahn" a long as possible and try to change between major "Autobahns" as less as possible, even if this means some detours. As soon as you are on the Autobahn and stick to service stations, you are hitching fast and reliable. In general you may have to wait quiet long waiving your thumb at on-ramps (especially if its hard to stop there and/or you are male), so if possible it often pays (in terms of time and frustration) to travel by foot and public transport to the closest service stations. Asking people directly just works better. Other good options are local petrol stations close to Autobahn on-ramps.
Many German motorways have no speed limits, therefore you might want first try to get a ride hitching a personal car before asking truck drivers. Trucks are great for a night-ride; however, there are restrictions, like in France, of when trucks are allowed on a motorway. In Germany most trucks aren't allowed on motorways on Sundays or public holidays before 22:00.
If you travel a specific motorway, have a look at the "German motorways" page where you can find very specific information and hints about hitchhiking on German motorway ramps, etc. - for example, the route Amsterdam–Berlin along the A2 and A30.
Legal stuff
Hitchhiking in general is legal in Germany. It is only forbidden to hitchhike on the Autobahn itself, meaning you standing on the highway or its emergency lane. You are perfectly fine stopping at service stations and asking the people. If you want to start hitching at the highway ramps, make sure you stand before the rectangular blue sign indicating the start of the highway.
Just like normal people, police may or may not be friendly towards hitchhikers. It is said that police controls are more frequent in the southern states of Bavaria and Baden-Württemberg. As a foreigner you have to carry your passport at all times; a national ID card is sufficient if you are from another EU country. If you are being checked, be friendly, show it to them and they will leave you alone after checking that you are not wanted.
License plates
There are between one and three letters on a license plate which show the city or region where the car is registered. For example, look for license plates starting with B if you're hitching to Berlin. Have a look at the articles on Wikipedia for more information: German car number plates (in English) and Liste der Kfz-Kennzeichen in Deutschland (in German).
Crossing the border
Germany has signed a Schengen Agreement which means that borders with other Schengen countries are open. Since 2009, all neighbouring countries are Schengen members as well, so there are no fixed border controls anymore. At times, there are mobile checks by the police or customs, especially in border regions or on the autobahn.
At the Swiss border, there are still custom controls, but that will probably only affect you if you are on a truck. (Switzerland has joined the Schengen Agreement in 2009!)
Maps
Recommended maps for Germany are listed in this article. You can easily hitch through Germany with just a map that has all service stations along the Autobahn on it. There are maps at many service stations in a little free booklet white are quite misleading, they DO NOT contain all service stations, just the ones belonging to one of the big companies running them. For more information look here: tank.rast.de. For a good map to print out and bring with you that has all the service stations on it have a look here: Rastekarte. This is the same one you will find at the service stations as big overview maps, more often than not those can be nicked very easily as well.
Food and drink
Drinking tap water is safe all over the country. You can usually get inexpensive but good food at Italian and Turkish takeaways, the latter ones have Döner or Kebap written on them. Typical German fast food shops are marked with Imbiss signs and sell cheap sausages and french fries. Keep in mind that most shops including supermarkets are not allowed to be open after 20:00 and on Sundays. Petrol stations, 24-h shops and kiosks have a very limited food choice and are more expensive. As a free alternative you can try dumpster diving. More information on this can be found in the trashwiki article on Germany.
Eating on the highway
Try to avoid eating on a motorway service stations if you want to save money and if have a good taste of food. These restaurants are notoriously expensive and the food quality is quite low. If you're lucky you can find thrown away Sanifair vouchers of the highway toilet system. You get a cumulative 0.50 euro rebate for them in the shop.
Hygiene
Most toilets on the service stations are maintained by Sanifair and are clean. You get a 0.50 euro coupon as part of the 0.70 euro service fee, which you can redeem when buying things at the petrol station shop or in the restaurant. Pathofdhamma suggest to seize the moment and jump the barrier if there are no people or cameras around. The turnstyle is only blocked for the inwards direction. With some luck and smooth moves, you can sneak in. Turn it towards you, walk one step; turn it again, walk another step: you are in!
There are showers in most service stations on the highway and near the highway (called Autohof). Prices are between 2 euro and 5 euro.
Language
Despite German being the major language, (with over 95% of the population speaking it as a first language [1]) you will find that many Germans speak English or French as a second language. Other common languages in the country are Turkish, Russian and Arabic.
Learning to speak German
The basic hitchhiker needs can be satisfied by a look at the phrasebook here.
When asking your drivers for help it pays off to know that the German word Straße for street contains the weird letter ß which looks a bit like a B. If you pronounce it like an s Germans will understand you. Contrary to popular belief the diacritics on Ä, ä, Ö, ö, Ü and ü are not metal umlauts and thus they do affect pronounciation. If in doubt try to pronounce the word as if the diacritics didn't exist. For instance, if you pronounce the city Würzburg as Wurzburg you will probably be understood.
Railways
The country has an expensive railway network. As an alternative to the standard fare, you may also check offers and sales, for example regional or seasonal tickets. [2] See also Deutsche Bahn.
Practical links
German
cities with more than 100.000 inhabitants

Federal States of
Germany