Gent
Jump to navigation
Jump to search
Gent

<map lat='51.02682057115055' lng='3.7205886840820312' zoom='12' view='3' float='right' />
Information
Country:

Belgium
State:
[[Oost-Vlaanderen]]
Population:
237,250
Major roads:
E17
Meet fellow hitchhikers on Trustroots
Gent is a city in Belgium.
Hitchhiking out
Getting out of Gent isn't too difficult.
All directions
Option 1: Go to the spot near the Woodrow Wilson square. Not many people know this square, but if you say "de zuid", everybody knows where you're talking about. Hitch at the road going to the motorway (). There is a 3 meters wide bike lane, so plenty of place to stop for the cars. Using a cardboard would be clever, as this entry of the motorway splits to different directions. Very good place to hitch towards any direction and there is a big bus station. (tram and bus: www.delijn.be, bus stop "zuid"). Scroll further for direction specific hitch hike spots.
Option 2: Try getting a ride at the light here, all traffic has to stop so you have plenty of time to talk to people or show your sign off. You can also easily stand just behind the lights at the southside of the crossroads, there is ample place to stand safely, and for cars to stop on the emergency lane. The cars are also not yet driving very fast. Do use a sign though, as the onramp will give access to go to east towards Antwerpen, southeast towards Brussels, southwest towards Kortrijk, Lille and Paris and west towards Brugge, Oostende and Calais. But make sure you don't make the mistake of trying to get there by getting on the ramp here. It's a lot longer than it looks and cars are going dangerously fast. You'll end up having to jump from the bridge to the ground below like Zac did. Many cars from the centre will take a bridge to the highway, for those option 1 is better. This option on the other hand gives access to the highway from the inner ringroad of Gent.
Option 1: Go to the big roundabout "De Sterre" near the Sint Pieter station. There you can hitch the N60 towards "Oudenaarde" until you reach the motorway E 17 at Eke.
Option 2: Take the train from Sint Pieter station for two stops to Eke-Nazareth. Blackriding is easy since it's only two short stops on the train. Once there, walk north to a service station via Klapstraat. It's a 20 minute walk but once there one should have no problems finding a ride as far as at least Paris, sometimes even southern France or Barcelona. There is plenty of local traffic heading to Kortrijk but avoid them because this is the other service stations on the E17 in Belgium are quite small.
Option 1 of hitching to Lille (make a cardboard)
Take the tram 4 in the city center towards Moscou and get off at A(dolf) van Ooteghemstraat, which is 1 stop before the tram reaches it's end station. Walk left into the Walstraat and then the first street to the right into the de naeyerdreef (sand road with lot's of trees). At the end of the road you'll reach the entrance to the A14 (E17) where you can easily get a ride towards Antwerpen or Kortrijk. You can also take tram 2 towards Melle Leeuw and get off at Gentbrugge P&R. That is almost right on the spot where you can start hitchhiking. You can stand under the bridge if it is raining. There are two gas stations on the A14 (E17) before Antwerpen. In August 2019 it took 5 minutes to get a lift to Antwerpen.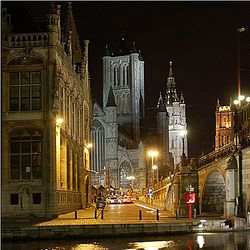 Furkanyigit: In 2019, December. I think to go to Antwerp is a great spot which is close to Gentbrugge P+R Tram Station. Take number 2 or walk from the center it takes 30mins, when you arrive the tram station you will see the bridge which is highway E17 (A 14) goes to Antwerp. Walk through under the bridge follow the N9 motorway few minutes and you see the high way enter on the right hand side. There is a long gap that you can easily hitchhike. Take a cartoon written Antwerp and thumbs up !
Walk or take the bus 18 to the "Gent Malemstraat" stop. The bus stop is a good place to show a sign "Brugge" or "Oostende". The road leads to the E40 motorway, actually to more directions than northwest too, but most of the cars take this exit of the city to go towards northwest. Different people waited just for 5-15 minutes.This spot was last used successfully on December 16th 2018 trash:Gent