Gent
Jump to navigation
Jump to search
Gent

<map lat='51.02682057115055' lng='3.7205886840820312' zoom='12' view='3' float='right' />
Information
Country:

Belgium
State:
[[Oost-Vlaanderen]]
Population:
237,250
Major roads:
E17
Meet fellow hitchhikers on Trustroots
Gent is a city in Belgium.
Hitchhiking out
Getting out of Gent isn't too difficult.
All directions
Go to the spot near the Woodrow Wilson square. Not many people know this square, but if you say "de zuid", everybody knows where you're talking about. Hitch at the road going to the motorway (). There is a 3 meters wide bike lane, so plenty of place to stop for the cars. Using a cardboard would be clever, as this entry of the motorway splits to different directions. Very good place to hitch towards any direction and there is a big bus station. (tram and bus: www.delijn.be, bus stop "zuid")
Southwest towards Lille
Option 1: Try getting a ride at the light here, all traffic has to stop so you have plenty of time to talk to people or show your sign off. But make sure you don't make the mistake of trying to get there by getting on the ramp here. It's a lot longer than it looks and cars are going dangerously fast. You'll end up having to jump from the bridge to the ground below like Zac did.
Option 2: Go to the big roundabout "De Sterre" near the Sint Pieter station. There you can hitch the N60 towards "Oudenaarde" until you reach the motorway E 17 at Eke.
Option 1 of hitching to Lille (make a cardboard)
Take the tram 4 in the city center towards Moscou and get off 1 stop before the tram reaches it's end station. Walk left into the Walstraat and then the first street to the right into the de naeyerdreef (sand road with lot's of trees). At the end of the road you'll reach the entrance to the A14 (E17) where you can easily get a ride towards Antwerpen or Kortrijk.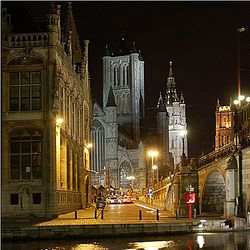 Internet
You can get free internet access at the university library "de boekentoren," or in English "the book tower." It's a big tower located at Blandijnberg, near Sint Pieters plein (which is not same as Sint Pieters station). Just log in as anonymous.
Food
If you need a good meal, you can go to the subsidized student restaurants (Sint-Pietersplein, Overpoortstraat). Just ask the student next to you in line at the pay desk to use his student card. This way you'll have to pay about 4€ for a decent meal. I suggest "De Brug" in the Sint-Pietersnieuwstraat (Locations of student restaurants: [1])

Trash:Gent trash:Gent In a city with the most density on vegetarian restaurants per capita, as a vegan you have a few hotspots too. Like the restaurant in Reep 14 with a Lunch all you can eat buffet for 12€. And it has free WIFI - Enjoy!