Difference between revisions of "Colombia"
Jump to navigation
Jump to search
---
Revision as of 03:19, 28 July 2014
Colombia

Information
Language:
Spanish
Capital:
Bogota
Population:
44,660,000
Currency:
Columbian peso (COP)
Hitchability:
<rating country='co' />
Meet fellow hitchhikers on Trustroots or BeWelcome
<map lat='4.609' lng='-73.652' zoom='5' view='0' country='Colombia' height='400'/>

Colombia is a country in South America. Although it's not an easy country to hitchhike, it is not as bad as they say. There is a lot of paranoia about the security situation in the country. And some areas are outright dangerous due to fights between government and FARC rebels. However, the conflict is very predictable and usually limited to certain areas in the countryside. Check with your foreign ministry or recent guidebook.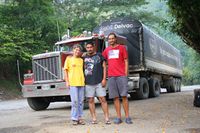 Like anywhere in Latin America, the biggest danger is to be robbed, which may happen if you travel alone. Bus transport is decent and reasonably priced, although not as cheap as countries like Bolivia or Venezuela.
As mentioned, the security situation makes hitching difficult, but certainly not as bad as you would think. To know which areas are outright no-go zones, ask around and check the newspapers. People tend to tell you that the whole country is muy peligroso, only take information seriously if there is something concrete going on (example : the FARC have attacked a military outpost on the road to Turbo...) Thumbs up hitch-hiking might get you a ride, but isn't the best approach. Much easier is talking to people at gas stations and peajes (toll booths), or asking soldiers at check-points and explaining where you are going, either they should let you talk to cars that slow for the check-point, or they may even ask people for you...
To cross from Colombia to Panama you've got to travel around the the Darién Gap somehow. See the article on the gap itself for details on that.
Cities
Personal Experiences