Category:Baden-Württemberg
Jump to navigation
Jump to search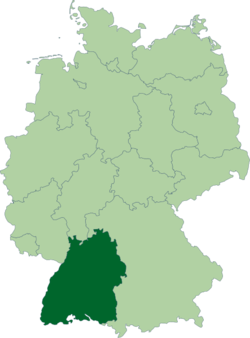 Baden-Würtemberg is a German federal state (german Bundesland).
It is the gateway state if you want to go to Lyon, Milano or Switzerland. The highways A5 and the A81 are crossing Baden-Württemberg in north-south direction, the A8 and A6 in direction west-east.
It is third largest in both area and population among the country's sixteen states, with an area of 35,742 square kilometers (13,800.1 sq mi) and 10.7 million inhabitants (both almost equivalent to all of Belgium). It's capital is Stuttgart.
Language
In many areas of Baden-Württemberg, residents speak the distinctive dialects of Swabian (Schwäbisch) and Badisch/Allemanic, which both are known for being almost unintelligible to northern Germans, especially in its stronger forms in the countryside. In the northern part of Baden-Württemberg, i.e. the area around Heidelberg and Mannheim, a third kind of dialect is spoken, known as Kurpfälzisch.
This article contains text from the Wikipedia article on Baden-Württemberg.

Federal States of
Germany
Pages in category "Baden-Württemberg"
The following 36 pages are in this category, out of 36 total.