Andorra
Jump to navigation
Jump to search
Andorra

Information
Language:
Catalan
Capital:
Andorra la Vella
Population:
71,822
Currency:
Euro (€) (EUR)
Hitchability:
<rating country='ad' />
Meet fellow hitchhikers on Trustroots
<map lat='42.54033' lng='1.57242' zoom='10' view='0' float='right' />
Andorra is a very small country in the Pyrenees, surrounded by France and Spain.
There are few roads and no motorways. To hitchhike onward it is necessary only to go to the end of the town, and passers-by can direct you. Andorrans are used to hitchhikers, as many of the South American workers here hitch to work and back.
The official language is Catalan and the currency used is Euro.
Precaution: do not leave your things (backpack, etc.) unattended while asking for a ride on the border or at petrol stations - small theft is common in this small country where the border is crossed by a number of smugglers.
Andorra La Vella itself is very difficult to hitchhike from, especially the centre, as all the roads seems to have bollards along them to stop drivers parking- a long walk out of town or moving on to Encamp, Canillo, Pas de la Casa or the border is suggested by the locals. While Andorrans themselves are sympathetic to hitchhikers, you are much more likely to be picked up by someone of another nationality.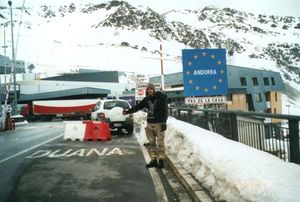 Towns
Hitchhiking out
There is only one main road in Andorra. Depending on which direction you can go to either France (North) or Spain (South). We found the locals quite helpfull for hitchhikers when we were thumbing but the cars we wanted to get (long distance towards France) didn't stop.
I would recommend to ask people at the petrol stations. Either north of Andorra La Vella if you go to France or south of ALV if you go to Spain. We got a ride to Toulouse within 10 minutes in this way.