A1 (Germany)
Jump to navigation
Jump to search

The A1 in Germany leads from Puttgarden to Saarbrücken and passes Hamburg, Bremen, Osnabrück, Dortmund, Cologne and Trier.
Hitching the A1
Legend:  (very good) |  (good) |  (average) |  (bad) |  (senseless)

You find included the information how well you can cross between the two service stations on the opposite sides of the highway.  indicates a tunnel/bridge,  indicates a service road nearby (including direction, and walking time in minutes) and  indicates an impossibility of crossing safely.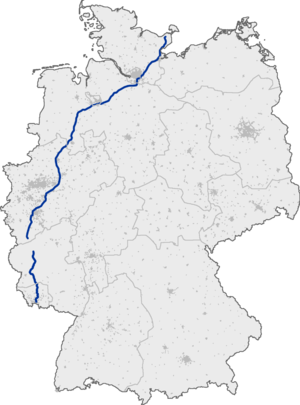 (6) Heiligenhafen-Mitte
(7) Gremersdorf
(8) Jahnshof
(9) Oldenburg in Holstein-Nord
(10) Oldenburg in Holstein-Mitte
(11) Oldenburg in Holstein-Süd
(12) Lensahn
(13) Neustadt in Holstein-Pelzerhaken
(14) Neustadt in Holstein-Mitte
Raststätte Neustädter Bucht West

South 30

Raststätte Neustädter Bucht Ost
(15) Eutin
(16) Scharbeutz
(17) Pansdorf
(18) Ratekau
(19) Sereetz
(20) Dreieck Bad Schwartau

A 226

(21) Bad Schwartau
(very good)
You can reach this spot by buses 2, 9, 12, 17 and 19 until busstop 'Kurzer Weg', then you cross the parking lot of the LIDL-market, cross the street, walk to the right, behind the traffic lights on the ramp it is
(22) Lübeck-Zentrum
(average)
With the same buses you go until busstop 'Sedanstraße', you take the footway in front of the motorway to the right, behind the tunnel you have to climb to the street (on the right side it's easier, beware of the heavy traffic), the spot is on the onramp between the way to the motorway and the way to the park-and-ride-place.
(23) Lübeck-Moisling
(24) Kreuz Lübeck

A 20

(25) Reinfeld
Raststätte Trave
(26) Bad Oldesloe
(27) Kreuz Bargteheide

A 21

Raststätte Buddikate West

North 20

Raststätte Buddikate Ost
(28) Ahrensburg/Großhansdorf
(29) Stapelfeld
(30) Barsbüttel
(31) Kreuz Hamburg-Ost

A 24

(32) Hamburg-Öjendorf
(33) Hamburg-Billstedt
(34) Hamburg-Moorfleet
(35) Dreieck Hamburg-Südost

A 25

(36) Kreuz Hamburg-Süd

A 255

Raststätte Stillhorn West (very good)
The service station of Hamburg for hitching out! Much traffic going south direction Bremen, Osnabrück and further on this motorway or to Hannover and further onto the

A 7

.

South 15

Raststätte Stillhorn Ost (average)
(37) Hamburg-Stillhorn
(38) Hamburg-Harburg
(39) Maschener Kreuz

A 39

(40) Horster Dreieck

A 7

(41) Hittfeld
(42) Dibbersen
(43) Buchholzer Dreieck

A 261

(44) Rade
(45) Hollenstedt
(46) Heidenau
Raststätte Ostetal Nord

South 20

Raststätte Ostetal Süd
(47) Sittensen
(49) Bockel
(50) Stuckenborstel
Raststätte Grundbergsee Nord

South 20

Raststätte Grundbergsee Süd
(51) Posthausen
(52) Oyten
(53) Bremer Kreuz

A 27

(54) Uphusen/Bremen-Mahndorf
(55) Bremen-Hemelingen
(56) Bremen-Arsten
(57) Bremen-Brinkum
(58a) Dreieck Stuhr

A 28

(58b) Delmenhorst-Ost
(59) Groß Ippener
(60) Wildeshausen-Nord
Raststätte Wildeshausen Nord

North 20

Raststätte Wildeshausen Süd
(61) Wildeshausen-West
(62) Ahlhorner Heide
(62) Dreieck Ahlhorner Heide

A 29

(63) Cloppenburg
(64) Vechta
(65) Lohne/Dinklage
(66) Holdorf
Raststätte Dammer Berge West

Raststätte Dammer Berge Ost
(67) Neuenkirchen/Vörden
(68) Bramsche
(70) Osnabrück-Nord
(71) Osnabrück-Hafen
(72) Kreuz Lotte/Osnabrück

A 30

Raststätte Tecklenburger Land West

South 30

Raststätte Tecklenburger Land Ost
(73) Lengerich
(74) Ladbergen
(76) Greven
(77) Münster-Nord * connection to the B54 (Germany)
Raststätte Münsterland West

North 30

Raststätte Münsterland Ost (very good)
(78) Kreuz Münster-Süd
(79) Ascheberg
(80) Hamm-Bockum/Werne
(very good)
Amazing on-ramp for direction south, lots of slow traffic, enough space to stand on the hard shoulder, ride offers to most directions in the Ruhr Area.
(81) Hamm/Bergkamen
(82) Kamener Kreuz

A 2

(83) Kamen-Zentrum
(84) Unna-Zentrum
(84) Kreuz Dortmund/Unna

A 44

Raststätte Lichtendorf Nord (very good)

South 20

Raststätte Lichtendorf Süd (very good)
(85) Schwerte
(good)
Not much space, but possible to hitch a bit before the on-ramp alongside the road. Lots of traffic, everybody can take you at least to the service station Lichtendorf.
(86) Westhofener Kreuz

A 45

(87) Hagen-Nord
(88) Hagen-West
(89) Volmarstein
(90) Gevelsberg
(92) Kreuz Wuppertal Nord

A 43

A 46

(93) Wuppertal-Langerfeld
(94) Wuppertal-Ronsdorf
(95a) Remscheid-Lennep
(95b) Remscheid
Raststätte Remscheid West (average)

North 10

Raststätte Remscheid Ost (good)
(96) Wermelskirchen
(97) Burscheid
(good)
(98) Kreuz Leverkusen

A 3

(99) Kreuz Leverkusen West

A 59

(100) Köln-Niehl
(101) Kreuz Köln-Nord

A 57

(102) Bocklemünd
(103) Köln-Lövenich
(104) Kreuz Köln-West

A 4

(104) Frechen
(105) Gleuel
Raststätte Ville West

South 20

Raststätte Ville Ost (average)
(106) Hürth
(107) Dreieck Erfttal

A 61

(108) Erftstadt
(109) Kreuz Bliesheim

A 61

A 553

(110) Euskirchen
(111) Wißkirchen
(112) Bad Münstereifel/Mechernich
(113) Nettersheim
(114) Blankenheim
between (114) and (118) a connection doesn't exist
(118) Rengen
(119) Daun
(120) Dreieck Vulkaneifel

A 48

(121) Mehren
(122) Manderscheid
Raststätte Eifel West (bad)

South 20

Raststätte Eifel Ost (average)
(123) Hasborn
(125) Wittlich-Mitte
(good)
(126) Kreuz Wittlich

A 60

(127) Salmtal
(128) Föhren
(129) Schweich
(130) Dreieck Moseltal

A 602

(131) Mehring
Raststätte Hochwald West (good) to Saarbrücken and Kaiserslautern

North 15

Raststätte Hochwald Ost
(132) Reinsfeld
(133) Hermeskeil
(134) Nonnweiler-Bierfeld
(135) Dreieck Nonnweiler

A 62

(136) Nonnweiler
(137) Nonnweiler-Braunshausen
(138) Nonnweiler-Primstal
(139) Tholey-Hasborn
(140) Tholey
(141) Eppelborn
(142) Illingen
(143) Kreuz Saarbrücken

A 8

(144) Quierschied
(145) Holz
(146) Riegelsberg
(147) Saarbrücken-Neuhaus
(148) Saarbrücken-Von der Heyd
(150) Saarbrücken-Burbach