User:Platschi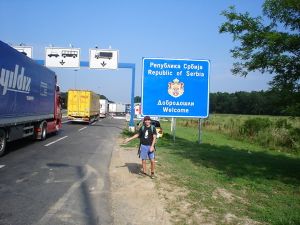 About
Platschi is a hitchhiker located in Uruguay. From time to time you can read about his hitchhiking trips at this blog (German).
Contact
For contact information, have a look here.
Hitchhiking
Platschi hitchhiked through/inside the following countries:
Planned trips
Statistics
The longest ride ever: 1443 km, пыша to новосибирск, Russia, 50 hours, one truck.
The fastest ride ever was together with MrTweek hitchhiking from Freiburg towards Hannover, got a driver inbetween who was riding 260 km/h on the German A7 highway.
The milestone of 25,000 km hitchhiking was reached on May 10, 2008 hitchhiking from Riesenbeck-Birgte towards Münster in a Smart Cabriolet. Amazing!
The milestone of 50,000 km hitchhiking was reached on April 29, 2009 hitchhiking from Hannover towards Bad Oeynhausen.
The milestone of 100,000 km hitchhiking was reached somewhere in August 2010 on the road between Faro (Portugal) and Sevilla (Spain) hitchhiking with a Portuguese-Angolan lady.
In this logbook you can find the hitchhiking statistics from platschi.
Since May 2006 he hitchhiked in total 105.753 km through parts of Europe, Asia and Africa. (Sep 26, 2010). Stopped keeping a record of hitchhiking trips between 2010 and 2013.
  Countries, where Platschi has hitchhiked